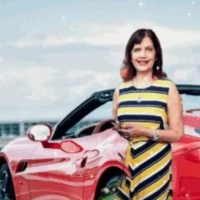 Brenda C Mohammed
Crime Fiction, Thriller, Mystery, Contemporary Romance, Science Fiction, Children's, Poetry, Advice & How To, Biographies & Memoirs, Christian Nonfiction
Country

Trinidad and Tobago
Multiple award-winning author of the popular science fiction book, Zeeka Chronicles. and best-selling nonfiction, I am Cancer Free, Brenda Mohammed, has published 55 books in multiple genres.

Reviewers have compared her futuristic novel, Zeeka Chronicles, to Frankenstein, Twilight Zone, and Shakespeare's plays; some have said it is movie material. For this book, Brenda captured awards from Readers Favorite International, Author Academy Global Awards, and Readers' Choice.

I Am Cancer Free also won an award in the category of Health and Fitness in Readers Favorite International Awards.

A former Bank Manager, Brenda's genres include memoirs, science fiction, romance, self-help, mystery, children's books, psychological thrillers, Christian books, poetry, and poetry anthologies.

Her fiction stories are filled with humor, mystery, and suspense with mostly happy endings.

The memoirs of her Life as a Banker and her travels are delightful.

Brenda's Christian books are for End Times - Chosen by the Creator, He is the One, Your Time is Now, True Power of Love, Highway to Joy Eternal, and Serenity in End Times.

Her superb writing skills won her several literary awards in the USA, Peru, Kazakhstan, Seychelles, Nigeria, India, Romania, Argentina, Ukraine, Morocco, Philippines, Hong Kong, Indonesia, Barcelona, France, Switzerland, Italy, Indonesia, Sri Lanka, Germany, Austria, Syria, Czech Republic, and the UK.

She is the Founder of the How to Write for Success Literary Network, President of the International Chamber of Writers and Artists [CIESART] - Trinidad and Tobago, with headquarters in Spain, and President of Unión Hispanomundial de Escritores – Trinidad and Tobago, with headquarters in Peru.

Brenda loves to share her knowledge and wrote two books on How to Write for Success for new and aspiring authors.

She is an advocate for Peace, Suicide Prevention, and Against Domestic Violence. With several authors from her Facebook forum she published six anthologies for those purposes, and three magazines.

If you are an aspiring writer; you are welcome to join her Facebook Literary Forum – How to Write for Success Literary Network.
Video
Brenda's Publications
Nobody is Perfect. Your imperfections make you unique.
Brenda Mohammed
A leader should never encourage his followers to become enemies of his enemies.
Brenda C Mohammed
We forgive to attain peace of mind, not to condone evil deeds.
Brenda C Mohammed
When the Fox cannot get the grapes, he says it's Sour.
Brenda C Mohammed
We can no longer live in a dream world. Wake up and smell the roses.
Brenda C Mohammed
THE BEST GIFT IN LIFE IS FAMILY
Brenda C Mohammed
NEVER LET ANYTHING OR ANYONE DAMPEN YOUR SPIRITS AND PREVENT YOU FROM ACHIEVING YOUR GOALS.
Brenda C Mohammed
Listen to your gut feeling. If something does not feel right, move on.
Brenda C Mohammed
Life is beautiful. Keep it that way.
Brenda C Mohammed
WHEN YOU FIND THE COURAGE TO TURN THE CORNER, NEVER LOOK BACK.
Brenda C Mohammed
Never make a promise you don't intend to keep.
Brenda C Mohammed
Be fearless. Do not follow anyone blindly.
Brenda C Mohammed
If I survived cancer, I can survive anything.
Brenda C Mohammed
"Books contain wisdom for our understanding, humour for our entertainment, information for our development, and matter for our pleasure." ― Brenda Mohammed, Memoirs of Dr Andrew Moonir Khan - A great Educator In Trinidad and Tobago
Brenda Mohammed