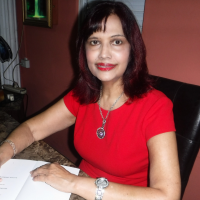 Brenda C Mohammed
Science Fiction, Children's, Biographies & Memoirs, Christian Nonfiction
Author of the popular, multi-award-winning, bestselling book HOW TO WRITE FOR SUCCESS, Brenda C. Mohammed, a former Bank Manager from Trinidad is a multi-genre, bestselling, and multi-award-winning author.
She holds a Diploma in Banking from the Institute of Bankers in London, and a Diploma in Life Underwriting from the American College, USA
She qualified for the Million Dollar Round Table, the Premier Association for Financial Professionals, six times in a row.
To date, she has published thirty-six books. Her genres include memoirs, science fiction, romance, self-help, mystery, children's books, and poetry anthologies. Her self-help book, 'How to Write for Success,' became an important guide for new and aspiring authors.
She won several literary awards in the USA, Oman, Peru, Kazakhstan, Seychelles, Nigeria, India, and the UK, and made headlines in several newspapers around the world.
Brenda was inducted into the Indie Author's Wall of Fame in the USA. in January 2020.
In 2018, she received two awards from Readers Favorite International in Miami for two of her books- Zeeka Chronicles and I am Cancer Free.
Three of her books won gold awards in Connection EMagazine Readers' Choice Awards - Zeeka Chronicles (2018], Stories People Love (2019), How to Write for Success (2019).
Several of her books also received five-star reviews from Readers Favourite International and topped the charts of Amazon to become Amazon No 1 bestsellers.
She was recognised in newspaper reports in Trinidad and Tobago Newsday on 7th November 2018, 16th October 2020, and Trinidad Guardian and Worldnews.net on 20th September 2020.
News of her success reached as far as Ethiopia where a journalist by the name of Alem Hailu interviewed her online on 17th November 2019 for the Ethiopian Sunday Herald.
Brenda is also a poet and among her publications are seven poetry books, with one in bi-lingual – English and Spanish, and she co-authored another titled Chaotic Times: A Poetry Vaccine for Covid 19.
Some of her poetry appeared in prestigious journals and anthologies in India, USA, Kazakhstan. Seychelles, USA, and other parts of the world.
She is the Founder of the HOW TO WRITE FOR SUCCESS LITERARY NETWORK with Forums How to Write for Success, Poems for Suicide Prevention, Library of How to Write for Success, and Poems against Domestic Violence.
Brenda is an advocate against Domestic Violence and Suicide, and together with several bestselling authors have published three anthologies for these causes.
Her YouTube Channel at https://www.youtube.com/channel/UCbOiViRMRlzpTqyaO2VTBnA
received over 123,000 views since inception. The Channel is for her Video Book Trailers, songs, and travel memories.
Video
About Brenda Mohammed
Be the change that you wish to see in the world.
Mahatma Gandhi
Where there is love there is life.
Mahatma Gandhi
Life is about learning from the past, trusting your intuition going forward, taking chances, finding moments of happiness, and realizing everything is simply a lesson that happens for a reason.
Courageous people do not fear forgiving, for the sake of peace.
Nelson Mandela
Children are one of the greatest lessons in happiness, constantly challenging us to enjoy the moment, as the next one will not be the same.